Friday, December 1st, 2006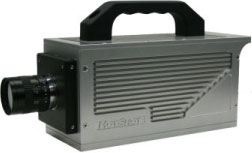 nac Image Technology, the most experienced name in high-speed imaging, introduces the HotShot 512 sc – putting high performance, high resolution, high speed video within the reach of more research, test and production users.
Simi Valley, CA – nac's new, affordable HotShot 512 sc records brilliant color images or crisp monochrome images at resolutions up to 512 X 512 pixels at frame rates up to 5,000fps. Using its advanced CMOS image sensor, the HotShot 512 sc is capable of recording speeds in excess of 200,000 fps at reduced resolution.
The HotShot 512 sc system is a self-contained, memory based, fully integrated stand alone instrumentation system. The HotShot 512 sc is an affordably priced, easy-to-use windows based motion analysis tool which utilizes a USB2 2.0 interface. Options include onboard memory up to 16GB, Gigabit Ethernet interface, data acquisition port, and much, much more. This lightweight, self-contained, laptop-friendly camera system is adaptable to a variety of laboratory and manufacturing environments.
nac Image Technology is the most experienced source for high-speed video equipment and motion analysis systems and software. A continuous record of technical innovation and a comprehensive, integrated line-up of products that set industry standards for performance and reliability makes nac the safe choice for more and more scientists, engineers and technicians with design, test and production applications for high-speed image capture and image analysis.
For more information contact:
Mr. Ken Hahn, Americas Sales Manager
nac Image Technology
15 McCoy Place
Simi Valley, CA 93065 USA
Telephone: +1 805-584-8862
Fax: +1 805-584-3642
Toll Free in USA: 1-833-600-0261
Website: www.nacinc.com