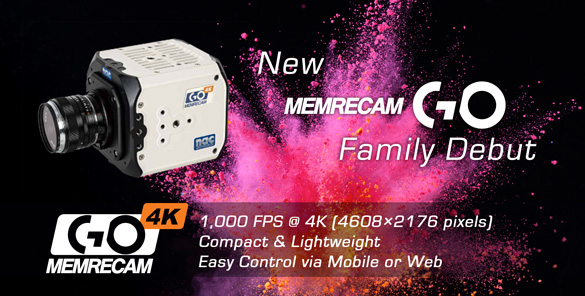 The new 4K model of the MEMRECAM GO series: the GO-4K Smart High Speed Camera, is equipped with a 10-megapixel high-definition sensor on a new technology platform that delivers 1,000 fps at 4608x2176 pixels. The GO-4K keeps high image quality in wide-field-of-view shooting which improves the accuracy of image analysis.
Learn More
Featured Video
NEW

MEMRECAM GO-4K Smart High Speed Camera System
nac Image Technology is the most experienced name in high speed video cameras and camera systems. Since 1958, nac's continuous record of technical and digital innovation and a comprehensive, integrated line-up of products have set industry standards for performance and reliability, satisfying specific high speed imaging requirements.
nac is the only manufacturer of high speed camera systems that has dedicated itself to producing complete, integrated systems with the most light sensitivity, the best image quality, the largest memory capacities, the smallest camera heads, the fastest download times and the most inclusive software packages in the industry.
When it comes to reliable, digital, high-quality, high speed camera systems, make the safe choice with nac and you'll see the visible difference in your business.
nac News
nac Newsletter Archive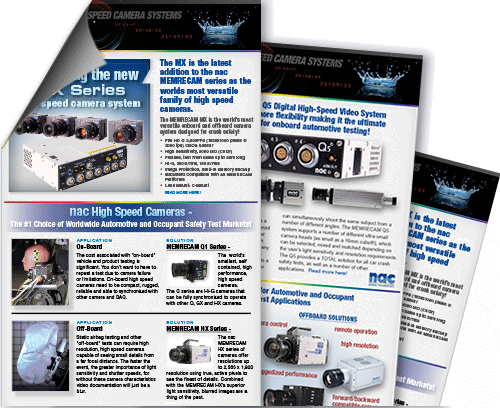 Let us know about your advanced imaging and motion analysis requirements
nac provides the high-speed imaging and motion analysis systems that give Engineering Research/Testing and production facilities a competitive advantage. Strategic partnerships and decades of experience with industry leaders give nac the ability to integrate the most sophisticated high-speed video hardware with equally sophisticated motion analysis software and image processing systems.