nac Image Technology signs a distribution agreement with MESSRING
December 6, 2022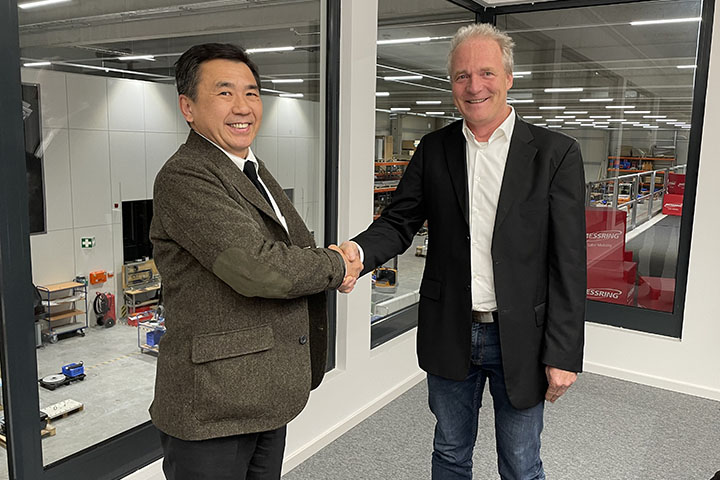 Munich/Tokyo, December 6, 2022 - nac Image Technology Inc., a market pioneer in high-speed imaging products and solutions, has signed a distribution agreement with MESSRING GmbH, the leading global crash test technology provider. Effective from January 1, 2023, MESSRING will be responsible for distributing nac's products in Europe and India, including all service and maintenance tasks, as a part of the partnership.
Seiji Nakajima, President and CEO of nac noted, "We are very much looking forward to serving our customers with nac camera systems together with MESSRING in the future. As one of the leading suppliers in the vehicle security sector, MESSRING is the right partner for our market-leading imaging equipment, systems, and integrations."
Wolfgang Rohleder, Sales Manager of MESSRING adds "With the integration of nac high-speed camera systems into our sales portfolio, we will be able to offer our customers yet another cornerstone to the turnkey crash test system in the future. With nac we have an established partnership and successful distribution agreements in other Global regions including Japan. We are looking forward to expanding our collaboration and offer the best possible systems for our mutual customers."
About nac image Technology:
nac was founded in 1958 in Tokyo, Japan and has been a world leader in the development and production of advanced imaging systems over 60 years. nac provides the high-speed video camera systems, the eye tracking systems, and other custom hardware and software products and solutions for scientific and industrial R&D applications in the world.
Strategic partnerships and decades of experience with industry leaders give nac the ability to integrate the most sophisticated high-speed video hardware with equally sophisticated motion analysis software and image processing systems. nac's comprehensive line of upgradeable, reliable, and easy-to-use products are cost effective solutions for the most challenging high-speed imaging and motion analysis problems.
For more information, please visit www.nacinc.com
About MESSRING:
MESSRING GmbH is the world market leader for crash test technology. Based in the southwest of Munich, the mid-sized company's product offerings range from the realization of large, turnkey and multifunctional crash test facilities to the delivery of compact crash simulation test systems. In close cooperation with automotive engineers and manufacturers, MESSRING develops application specific solutions that enable the automotive industry to test their active and passive vehicle safety systems. With more than 130 employees and over 140 crash and sled test facilities installed worldwide, MESSRING has been contributing to making traffic and transportation safer for over 50 years.
As a pioneer in the field of passive safety, MESSRING has set itself the goal of also playing a leading role in active safety. For this reason, MESSRING Active Safety GmbH was founded in 2018, whose core competence is in the development of test systems for driver assistance systems and autonomous vehicles.
Further information can be found at www.messring.de