UVi 1850 Series High Speed Video Camera Image Intensifier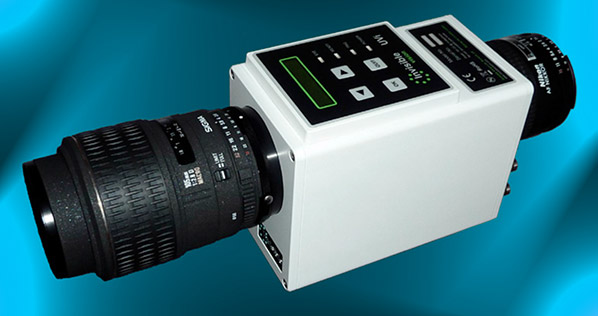 UVi 1850 Series Camera Intensifier
18mm Output Diameter
Ultra Fast Shutter Speeds
Customized for UV to Near IR Imaging
Superior Gain Boosting Performance
Optimized for Digital High Speed Video Cameras
The Invisible® Vision UVi series of camera accessory intensifiers are designed to add low light, extended spectral range (from UV to NIR) and fast gating in a compact and all inclusive, easy to use lens coupled package. Typical applications are in combustion, electric discharge, biomedical and ultra-high speed stroboscopic or shuttering techniques with high speed or conventional video cameras.
The UVi is easily programmed by its integral menu driven LCD display/control panel or via its USB interface and software to synchronize to an external TTL or video signal; offering multiple, digitally programmed gain, delays and exposures (> 10ns in 10ns steps) at input trigger rates to > 100,000 per second and up to 20,000,000 per second in burst mode.
The novel, custom designed intensifier is optimized for use with modern high speed video cameras offering high gain and a proprietary phosphor with fast decay (including a small 'tail') and efficient green output. The intensifier output image is collected by the high performance internal relay optics matching into either an externally adjustable F or C mount (18mm diagonal image) supplied lens on the coupled camera system. The user may easily select alternative image formats by an alternative choice of objective lens.
Advanced features such as a fully user programmable output shutter monitor and an independent output strobe complement the system.
Alternative UVi models optimized for specific spectral responces, phosphors, intensifier formats or fast shuttering speeds are also available.
Additional Product Details
Features
UV to NIR spectral response Fast Gating to 5ns
High Gain/Sensitivity
Frames rates to > 1,000,000 fps with HSV
Up to 20,000,000 fps in burst mode
Integral control panel and external USB control
Exceptional resolution
Choice of optimized photocathodes & phosphors
Customized Options
Photocathode: S20 (UV biased, UV to Visible) or S25 (Visible biased, UV to NIR)
Phospor: Proprietary Green (decay typically 10 µsec) or P46 (decay typically < 1 µsec)
Ultra Fast Gating: up to 100ns, 10ns or 5ns in 10ns steps