High-Speed Camera Systems for Entertainment & Broadcast Applications
nac Image Technology Inc of Tokyo, Japan has been actively involved in the entertainment industry since its founding in 1958. nac is proud of the reputation it has earned for high quality, reliable, super slow motion camera systems. nac is the world's most experienced source for super slow motion camera equipment. A continuous record of technical innovation and a comprehensive, integrated line-up of products that set industry standards for performance and reliability makes nac the safe choice for more and more sports broadcasters, engineers and technicians with entertainment applications for super slow motion digital image capture systems.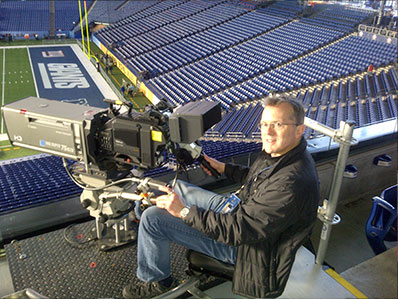 Andy Hayford and the nac Hi-Motion II at the Super Bowl!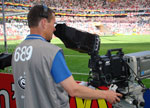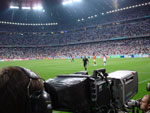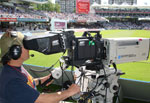 nac's camera technology is capable of capturing hundreds of thousands of images per second, but 1000 frames-per-second is optimal for most HDTV super slow motion applications. As a result, nac product development is focused not on increasing image capture speed but rather on the integration of the super slow motion camera system with the sports broadcast work flow while optimizing camera light sensitivity
For full product details visit the Hi-Motion II page. >>
nac Receives Emmy
The National Academy of Television Arts and Sciences has honored nac with an Emmy for the 2009 / 2010 Technical Engineering Awards. The Emmy is awarded for work in "HD Super Slow Motion Systems for acquisition, recording, and playback in Broadcast, Entertainment and Sports Productions." The MEMRECAM Hi-Motion is the camera that embodies the nac award-winning technology. This camera was developed in cooperation with NHK and is the first super slow motion broadcast camera in the world with real HD quality based upon 3-chip technology.
Click here to read full news story…
nac expands its Sports Broadcast Business Unit…
nac Image Technology is pleased to announce the appointment of Andy Hayford as International Sales Manager for nac Hi-Motion Products. His responsibility will be for the promotion and sale of nac's Ultra Slow Motion Sports Broadcast Systems in Europe, the Americas, Australia, and other geographic territories. Through Andy's promotional and operational efforts with nac's business partner, ARRI Media, Andy has been an integral part of nac Hi-Motion Cameras receiving an EMMY Technology and Engineering Award in 2010 and Golden Podium Awards at Sportel in 2008 and 2009. Click here to read more…
For more information on the nac Hi-Motion Cameras, please contact:
Andy Hayford, International Sales Manager
nac Image Technology
30a Upper High Street,
Thame, Oxon, OX9 3EX
United Kingdom

Office: +44 1844 210696
Mobile: +44 (0) 7852 159 665
Email: ahayford@nacinc.com

Read more about the Hi-Motion II from Live Production