World First Use of Live Ultra Slow Motion Camera During Amstel Gold
nac Hi-Motion II™ used by Dutch NOS for live broadcast
Hilversum, April 2013 - During the live NOS broadcast of the Dutch cycling classic Amstel Gold Race, viewers were treated to stunning ultra slow motion shots coming live from a motorcycle camera in what is considered a world's first. Using a nac Hi-Motion II™ supplied by Netherlands-based full-service rental house Broadcast Rental, for the first time the ultra slow motion shots were transmitted live through a RF connection to the OB truck. In regular OB productions, the nac Hi-Motion II is connected via cable and the replay-operator controls the ultra slow motion footage from the camera. During the Amstel Gold Race, however, the slow motion footage was actually being triggered by the camera operator and the replays sent as a live feed to the director for broadcast.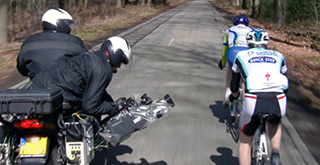 NOS director Pim Marks specifically used the nac Hi-Motion II™ for this live broadcast: "Last summer we were really happy with this camera during the London Olympic Games, unfortunately we couldn't use it on a motorcycle due to safety measures. Now I had the opportunity of using it on the back of a motorcycle and it truly met my needs. I had the best ultra slow motion shots just when I needed them, for live and fall back situations. And the viewers could enjoy amazing never before seen close-ups of the cyclers and their bikes."
"We had a world first here", says Geert Paul Slee, CEO of Broadcast Rental: "It was never done before during road cycling that an ultra slow motion camera transmitted the shots live through a wireless RF connection to the OB truck. Together with the R&D department of nac we managed to do it with dedicated new software. It enables the camera operator on the back of the motor cycle to trigger ultra slow motion situations as they happen."
Broadcast Rental was the first to invest in the nac Hi-Motion II™ on the mainland of Europe. The Hi-Motion II cameras use a unique three chip (CMOS) sensor capable of capturing up to 40 times realtime in Full HD and provide simultaneous output of live realtime video AND ultra slow motion replay video. The three chip nac Hi-Motion II cameras provide unparalleled clarity and detail enhancement along with superb light sensitivity while fitting seamlessly into the workflow of sports broadcast environments.
The debut of the Hi-Motion II™ cameras at the 2012 Super Bowl continues the legacy of the previous nac Hi-Motion camera systems that have been embraced by broadcasters for live coverage of major global sporting events and a variety of professional sporting events, including football, international motor racing, cycling, tennis, baseball, rugby, cricket, golf, boxing and horse racing.
About Broadcast Rental
Starting business in 2009, Broadcast Rental quickly became one of Europe's leading broadcast dry hire and systems rental specialists. The company is market leader in The Benelux. Core business is the offering of the widest and most up-to-date range of broadcast equipment for live sports, entertainment, and studio productions. Broadcast Rental specializes in tapeless workflow and super/ultra slow motion and Wireless camera systems. Extensive knowledge is on board as well as the latest hardware from manufacturers as EVS, Sony, Grass Valley and nac Hi MotionII.
The company is acclaimed for it's up-to-date inventory, the best broadcast assets available on the market and an excellent service level. Founder Geert Paul Slee has a vast experience of more than 25 years in broadcasting. He worked for some of the major European broadcast facilitators and arranged dozens of field productions like Champions League, Euro 2000 and the London Games 2012.
Broadcast Rental has worked for several clients like ZDF, NOS, Outside Broadcast, Euro Media Group and France Television. Broadcast Rental operates from The Netherlands. The company offers 24/7 technical assistance and is known for its flexibility regarding last-minute requirements.
For further information about Broadcast Rental visit www.broadcastrental.com
Or contact Geert Paul Slee: gpslee@broadcastrental.com
About nac Image Technology
Since 1958, nac Image Technology's continuous record of technical and digital innovation and a comprehensive, integrated line-up of products have set industry standards for performance and reliability, satisfying specific high speed imaging requirements.
Learn more about nac products at www.nacinc.com. For more information on the Hi-Motion II™ camera, visit www.hi-motion.net.
For further information:
ahayford@nacinc.com
Andy Hayford: +44 (0)1628 509 001
sales@nacinc.com
nac Image Technology: +1 805-584-8862