HotShot e1024 High Speed Camera Systems
The HotShot e1024 High Speed Motion Analysis System!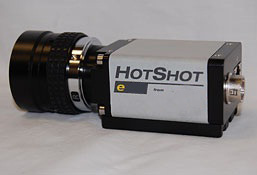 Built off of the popular e64 platform, the e1024 offers even more resolution! It is the only high speed camera in its class that comes complete with all of the components necessary to begin capturing and analyzing images.
e1024 High Speed Camera captures crisp, clear images at 1024 x 768 resolution and can capture images at up to 4,000 fps at reduced resolutions using standard C-Mount and F-Mount lenses
Motion Analysis Software allows the user to measure and track an object's velocity, position, size, location, acceleration, displacement, trajectory and more!
Control Console for camera control and image analysis
The HotShot e1024 is perfect for a multitude of high speed applications including: human / veterinary biomechanics analysis, research, design & test, production and manufacturing, to name a few.