nac MLX Introduces World's First Color Low Light Camera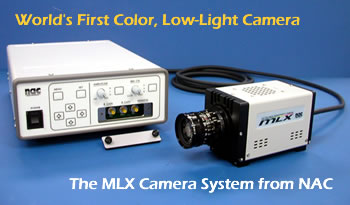 nac Image Technology, the most experienced name in specialty imaging systems, presents the MLX… the first color low light camera designed for use in applications where normal CCTV cameras can't see anymore!
Simi Valley, CA – nac's new ultra high sensitivity color camera system, the MLX, is a revolutionary design adopting an exciting new CCD technology that allows brilliant color video images to be captured in low light conditions.
The MLX Camera System is ideal for a variety of security, industry and science applications including surveillance, bioluminescence, chemo luminescence and fluorescence. The camera's robust design makes it ideal for all types of application environments, both indoor and out.
One camera does it all! Since there's no image intensifier tube that can be damaged, nac's MLX can be used in all lighting conditions: dawn, daylight, dusk and moon light. The MLX has a maximum noise-less sensitivity of 0.01 lux in color mode and 0.002 lux in monochrome mode. The high sensitivity is achieved without an additive, frame storage method and as a result, moving images can be captured without any motion blur!
nac Image Technology is the most experienced source for specialty imaging equipment. A continuous record of technical innovation and a comprehensive, integrated line-up of products that set industry standards for performance and reliability makes nac the safe choice for more and more imaging applications. See the visible difference with nac products.