nac's Ultimate Automotive High Speed Camera Solution: MEMRECAM MX
October 2017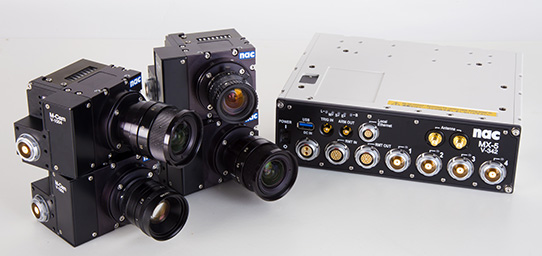 nac is pleased to introduce the ultimate automotive solution: MEMRECAM MX High Speed Camera Systems, consisting of the MX-5 4-Port Integrated Processing Unit and the M-Cam Full HD Ultra Compact Camera Heads. The nac MEMRECAM MX is a robust, turnkey solution for multi-camera onboard and offboard automotive testing applications. Each system supports up to four, tightly synchronized camera views, and integrates seamlessly with all current and legacy MEMRECAM imaging systems.
The M-Cam utilizes an extremely light sensitive image sensor, providing Full HD image resolution at up to 2,000 fps, and coming complete with 4GB of memory and built-in memory backup protection. The Integrated Processing Unit provides power, communications, trigger and synchronization for up to four M-Cam's, and provides the interconnect technology for integration with all MEMRECAM platforms. All components are compact, light weight, and capable of withstanding Hi-G shock.
The flexible MEMRECAM MX high speed camera system is a truly ideal solution for all automotive testing needs.
FEATURES
Full HD@ 2,000FPS (1920x1080 pixels @2000fps) CMOS Sensor
Light Sensitivity: ISO 8000 (Color)
Electronic Shutter
Hi-G, Ultra Small, Light Weight Camera
Camera Head Contains 4 GB Built in Memory
Lens Mount: C-Mount
Built-in Memory Backup
Hi-G Compact Processing Unit Design
Multiple Camera Operation with Precise Synchronization
Reliable Thin Cable ø7mm up to 20M
Gb Ethernet Communications
Power Input: 20 - 32 VDC
Memrecam MX is Backward Compatible with all Memrecam Platforms
For full features and specifications visit the MX Product Page
For more information contact:
nac Image Technology
543 Country Club Drive, Suite B-534
Simi Valley, CA 93065 USA
Telephone: 1-833-600-0261
Email: sales@nacinc.com
Website: www.nacinc.com
YouTube: NACImageTechnology