nac Image Technology presents the Memrecam fx RX6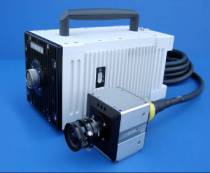 nac Image Technology, the most experienced name in high-speed video, presents the Memrecam fx RX6, a HyGe camera system that combines ultra fast framing rates with optimal light sensitivity.
Simi Valley, CA – nac's new Memrecam fx RX6 is a fully self-contained, digital, high-speed video system that records brilliant color or crisp monochrome images, with resolutions of up to 512 X 512 pixels at 4,000 pps. Using an advanced CMOS sensor, the Memrecam fx RX6 captures images at frame rates in excess of 200,000 pps.
The very small Memrecam fx RX6 camera head can be located up to 9m from the system's Digital Recording Processor (DRP). It's small size allows it to be placed in confined areas and its high light sensitivity makes illumination much more manageable.
nac Image Technology is the most experienced source for high-speed video equipment and motion analysis systems and software. A continuous record of technical innovation and a comprehensive, integrated line-up of products that set industry standards for performance and reliability makes nac the safe choice for more and more scientists, engineers and technicians with design, test and production applications for high-speed image capture and image analysis.