nac Image Technology Introduces the Memrecam HX-7
May 2015
nac Image Technology is proud to introduce the expansion of its Memrecam HX series family of cameras. The Memrecam HX7 is a compact, lightweight, self-contained, digital high speed camera that offers an astounding 5 Mega Pixel resolution at up to 800 fps, Full HD resolution at up to 2,000 fps, 1 Mega Pixel resolution at up to 3,600 fps, and so much more!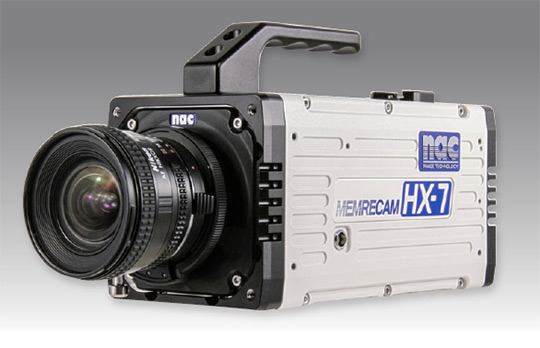 The HX-7 is designed to excel in applications that benefit from system mobility and complete standalone operation. As with all the Memrecam HX cameras, the HX7 is capable of simultaneously recording and downloading images to/from segments of the camera's internal memory. The HX7 adds ultra-fast commercial off-the-shelf HDD interface technology, allowing the user to quickly transfer image data from multiple tests to inexpensive third party media. The Memrecam HX7 is ideal for a variety of research and test applications, including vehicle impact testing, automotive component testing, combustion testing, explosives and pyrotechnics, ballistics, missile launch, materials testing, fluid dynamics, flow visualization, and many, many more.
About nac Image Technology
Since 1958, nac Image Technology's continuous record of technical and digital innovation and a comprehensive, integrated line-up of products have set industry standards for performance and reliability, satisfying specific high speed imaging requirements.
Learn more about nac products at www.nacinc.com .
For further information:
sales@nacinc.com
nac Image Technology: +1 805-584-8862