nac Hi-Motion II Cameras Capture the 2012 UEFA Champions League Final
May 23, 2012 – Simi Valley, CA - On Saturday, May 19th, Bayern Munich competed against Chelsea in the 2012 UEFA Champions League Final, and nac's Hi-Motion II cameras were there to catch all of the action! Fletcher London rented out two (2) of these ultra-slow motion cameras to be placed behind each goal diagonally across from one another. These locations proved to be advantageous as they were able to obtain ultra-slow motion footage of both the goals scored, one by each team, both scored in the latter part of the second half.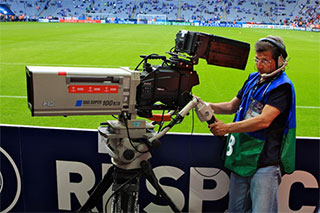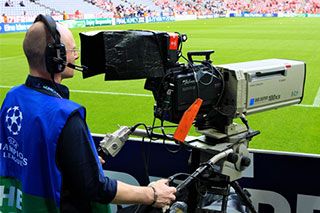 Photos courtesy of SVG Europe
The Hi-Motion II™ cameras use a unique three chip (CMOS) sensor capable of capturing more than 10X high speed images in Full HD and provide simultaneous output of live real time video AND ultra slow motion replay video. The three chip nac Hi-Motion II™ cameras provide unparalleled clarity and detail enhancement along with superb light sensitivity while fitting seamlessly into the workflow of sports broadcast environments. The Hi-Motion II camera's on board memory storage enables every camera to stream live video while simultaneously storing previously captured ultra-slow motion image sequences. This allows broadcasting networks to continue to stream the live action, while the production team retrieves video from the memory storage to show an ultra-slow motion highlight. In a sport such as soccer, where there is rarely a break in the action, being able to set up an ultra-slow motion replay in a timely manner can be the difference between showing the video when the play is fairly current, and showing the video when the play has already passed and forgotten.
For anyone who was watching this game live, they would agree that Bayern was controlling the field. In the first half alone Bayern was able to get eleven (11) shots off compared to Chelsea's two (2). While only a few of these shots were actually on net for Bayern, the opportunities were present. While Bayern Munich showed complete dominance of the field throughout the entire game, Chelsea still found a way to become this year's UEFA Champions.
It was not until the 83rd minute of regulation time that Bayern was able to capitalize on one of these opportunities, and one of our nac camera's were right there to capture it. Bayern's midfielder, Toni Kroos, sent a left-wing cross directly to Thomas Müller, who gave a header that bounced up and in off the underside of the crossbar. However, Chelsea responded to this goal rather quickly. Only five minutes later, in the 88th minute of regulation, Chelsea was awarded with a corner kick. Juan Mata, Chelsea's forward, lined up for the right-wing corner and placed the ball perfectly by the near post for Didier Drogba to deliver a powerful header which was destined for the back of the net. With only two minutes to spare in regulation time, Chelsea had made the most of their minimal opportunities, sending the game into extra time.
After a hard fought extra time by both teams there was no decisive winner, so the game had to be resolved through penalty kicks. Chelsea proved to be more accurate as they defeated Bayern Munich 4-3 on penalties, and to no surprise it was Didier Drogba who converted the decisive spot kick to deny Bayern a home victory. Drogba was awarded the top player of the match as he helped bring the first EUFA Champions League Title back to Chelsea.
Did you miss last week's game? Not to worry, Fletcher London will be renting out nac Hi-Motion II cameras to premiership football matches throughout the UK over the entire summer. All of the highlights can be seen at ultra-slow motion as this summer's competition heats up.
About nac Image Technology
Since 1958, nac Image Technology's continuous record of technical and digital innovation and a comprehensive, integrated line-up of products have set industry standards for performance and reliability, satisfying specific high speed imaging requirements.
Learn more about nac products at www.nacinc.com. For more information on the Hi-Motion II™ camera, visit www.hi-motion.net.
For further information:
ahayford@nacinc.com
Andy Hayford: +44 (0)1628 509 001
sales@nacinc.com
nac Image Technology: +1 805-584-8862