nac Hi-Motion II™ Captures World Cup Games in Brazil
June 2014
nac Image Technology is pleased to reveal that 8 of its Hi-Motion II™, Ultra Slow Motion camera systems are being used to capture some of the most iconic moments from the World Cup Games in Brazil.
The 8 Hi-Motion II camera systems have been supplied by rental company Fletcher London to the host broadcaster in Brazil.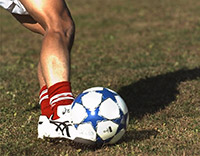 "One of the big changes the industry has seen since Germany 2006 and Beijing 2008 is the amount of ultra-slow motion that TV directors want to include in their broadcasts," comments Andy Hayford, International Sales Manager, nac Image Technology. "We are delighted that so many of those memorable shots have been taken with the Hi-Motion II, which has proved to have worked superbly in varied lighting conditions. We've really been able to help the viewer appreciate the supreme effort some of the footballers are putting into their performance."
The Hi-Motion II™ cameras use a unique three chip (CMOS) sensor capable of capturing more than 10X high speed images in Full HD and provide simultaneous output of live real time video AND ultra-slow motion replay video. The three chip nac Hi-Motion II™ cameras provide unparalleled clarity and detail enhancement along with superb light sensitivity while fitting seamlessly into the workflow of sports broadcast environments.
Hi-Motion II™ ultra-slow motion camera, has wireless capability with, BSI, VideoSys and Broadcast RF. This provides the RF links for the live and playback video along with full remote control.
Hi-Motion II™ has seen much action and success at global events including the games in London and Sochi; NHL Stanley Cup Finals; also multiple systems at the Super Bowl in New Orleans, the Champions League Final & Ashes Cricket in the UK and for a third time at the Australian Open.
About nac Image Technology
Since 1958, nac Image Technology's continuous record of technical and digital innovation and a comprehensive, integrated line-up of products have set industry standards for performance and reliability, satisfying specific high speed imaging requirements.
Learn more about nac products at www.nacinc.com . For more information on the Hi-Motion II™ camera, visit www.hi-motion.net.
For further information:
ahayford@nacinc.com
Andy Hayford: +44 (0) 1844 210696
sales@nacinc.com
nac Image Technology: +1 805-584-8862