nac's GX-1 films Frozen Planet for the Discovery Channel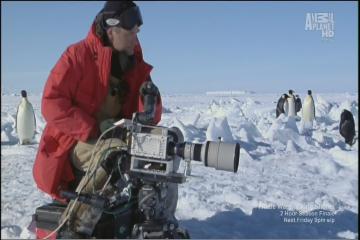 May 16, 2012, Simi Valley, CA - nac Memrecam cameras were instrumental throughout the filming of the "Frozen Planet", a BBC documentary being aired on the Discovery Channel and the Animal Planet Channel. This series consists of cameramen and their crews venturing out into the Arctic and Antarctic regions not only to survive the life-threatening conditions, but to capture some of the best wild-life footage ever seen.
During the "mild" Antarctic summer cameramen were facing below freezing temperatures, and battling against very high winds. It was vital for these cameramen to have a camera they knew could withstand these extreme climatic conditions. Once again this is where a nac Memrecam GX-1 camera came into play. Along with a compact and lightweight body style, a Memrecam GX-1 is built to withstand some of the most demanding environments. Withstanding brutal Arctic conditions while still performing at its full potential are proof positive that these cameras are built to last.
The nac Memrecam GX-1 was used in the filming of the penguin segment featured in the "Frozen Planet". One of the keys to making the Memrecam GX-1 so practical is the fact that besides the camera, little else is needed. The only accessories required to enable the Memrecam GX-1 to perform is a lens fixed on the end of the camera, a tripod to enhance stability, USB2 external drive for data storage, a video monitor, and a nac J-Pad hand-held controller. This means no extra computer or laptop is needed for the camera to function in the field. While, in this specific case, one less computer for someone to carry around in the middle of the Antarctic was beneficial, had the cameraman preferred to control the camera through a laptop, he could have done so using the Memrecam GX-1's Gigabit Ethernet laptop-friendly interface.
The crews and cameramen of the Frozen Planet series risked their lives to obtain this spectacular footage, overcoming the extreme weather conditions while still managing to protect themselves from wild-life, maintain a somewhat healthy diet, carry supplies needed for basic survival AND supplies needed to film the show. The last thing these crews wanted was an extra computer or type of extra equipment to add onto the long list of things to look after while in the Antarctic. This is why the nac Memrecam GX-1 was so useful and practical during the filming of the show.
nac's Memrecam GX-1 provides superior light sensitivity, Mega pixel resolution and high frame rates all in one camera—capable of withstanding Hi-G environments. The GX-1 is a fully self-contained, digital, high-speed video system that records brilliant color images or crisp monochrome images with over 1.3 million pixels! Using the very latest CMOS sensor technology, the Memrecam GX-1 captures brilliant images at frame rates up to 200,000 fps.
The robust GX-1 is perfect for a variety of applications including: Automotive Crash, Ballistics, Combustion, Materials Research, Machine Design, Microscopy, PIV, Flow Visualization, Spray Analysis, and many, many more...
About nac Image Technology
Since 1958, nac Image Technology's continuous record of technical and digital innovation and a comprehensive, integrated line-up of products have set industry standards for performance and reliability, satisfying specific high speed imaging requirements.
Learn more about nac products at www.nacinc.com. For more information on the Hi-Motion II™ camera, visit www.hi-motion.net.
For further information:
ahayford@nacinc.com
Andy Hayford: +44 (0)1628 509 001
sales@nacinc.com
nac Image Technology: +1 805-584-8862