nac High Speed Cameras Cover Action at the World Cup 2010 Games
FIFA 2010 relies on 5 nac High Speed Cameras for outstanding slow motion images!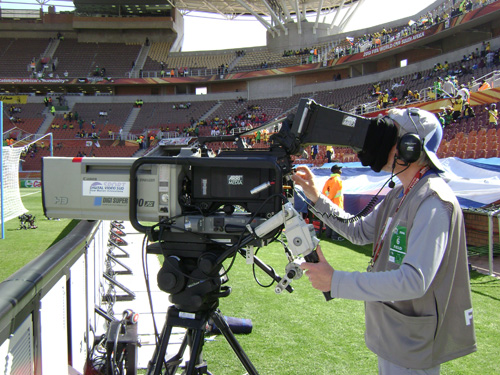 Prestigious sporting events around the world continue to look to nac High Speed Cameras to provide viewers with incredible slow motion images. During the recent World Cup action in South Africa, a total of five (5) nac High Speed Cameras (4 main cameras and 1 backup) were used at four separate venues: Johannesurg (Ellis Park), Nelspruit, Polokwane and Tshwane/Pretoria. Set on tripods next to the goals on each end of the field, the cameras used 100 x zoom lenses to capture plays with incredible clarity. The unparalleled light sensitivity of the cameras provided spectacular images in bright sunlight, shade and under lights.
As well as coverage in the group matches, nac cameras also were featured in Round 16 matches between Brazil vs. Chile at Johannesburg (Ellis Park) and Japan vs Paraguay at Tshwane/Pretoria. In the Quarter Finals, the nac cameras captured action in the Paraguay vs Spain game.