Plasma Fusion at University
Contact nac for more information on the camera used to film this video.
Additional Product Details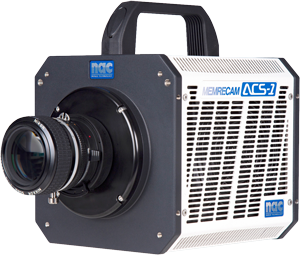 Camera Model: nac Memrecam ACS-1 M60 200,000fps 1280×192 pixel
Description: University R&D relies upon the ACS ultra high FPS and Resolution capabilities. The ACS-1 M60 offers full frame, 1280 x 896 resolution up to 54,000fps, 1280 x 800 resolution at 60,000fps and 1280 x 448 resolution at 100,000fps in normal mode. Frame rates up to 1 million fps are available with reduced resolutions.
Unique Features of the ACS include:
Auto Black Balance: Auto Correction by Mechanical Shutter
Memory Segment: Up to 64 Segments With 64 Blocks
Built-in SSD 1: Faster Auto Storage into Built-in SSD Backup Image data while recording
DOWNLOAD REC: Recording to a memory segment in parallel with downloading to another memory segment
Image Trigger: Triggered by intensity shifts sensed at the minimum area of 21 X 16 pixel
Dual Framing Rate: 1x and 1/2~1/100x
CAM MODE LED:
Status: LED: View/Arm/Rec

Applications serviced by the ACS:
Sensor:Proprietary CMOS Global Shutter 28.16mm x 19.71mm all Active pixels
Active Pixel:1280 x 896
ISO (REI):50,000
Memory:64GB / 128GB / 256GB
Bit Depth:8bit / 10bit / 12bit
Lens Mount:F-Mount (Support to Iris ring - less Lens) / C-Mount 1
Video Output:DisplayPort / HDMI / 3G-SDI
Input Signal:Trigger (TTL/Contact) / EST / IRIG-B
Output Signal:Status (Arm/Fault) / Exp. Pulse / Trigger Out / VD OUT
Control:PC or V-Pad 1 (11.6" Touch Panel Monitor)
Power:20-32VDC
Dimensions (mm):175W x 175H x 206D
Weight:Approx. 7.3kg