Dog Drinking Water at 3,000fps
Additional Product Details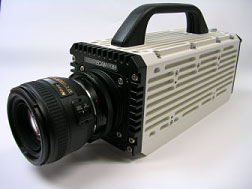 Camera Model: nac Memrecam GX-3
Description: The Memrecam GX-3 high-speed camera system is a multi-purpose workhorse designed for the most sophisticated high-speed imaging applications. The GX-3 is the only system in its class capable of taking mega pixel images at 2,000 fps at 1280 x 800 pixels OR 1024 x 1024 pixels! With an astonishing active pixel size of 21.7 microns and superior Dynamic Range, the nac Memrecam GX-3 has the unsurpassed light sensitivity for crisp, clear images.
System Features:
Superior Light Sensitivity: >20,000 ISO monochrome, > 5,000 ISO color
High Resolution: 1280 X 1024 pixels
Adjustable Frame Rates from 50fps to 198,000fps in 1fps increments
Selectable Bit Density: 12 bits / 10 bits / 8 bits (extends recording) STANDARD
Variable Region of Interest with Continuously adjustable resolution in 16 x 4 pixel increments
Gigabit Ethernet Laptop Friendly Interface
Continuous Live Video Output (NTSC / PAL) during setup and recording
Auto Exposure Control
Dynamic Range Expansion Shutter (pixel level shuttering)
System Features - continued:
Versatile Recording: Burst-Trigger, Multi-Trigger and Event-Trigger Modes
Memory Segment with automatic segment change capability
External Sync Recording
IRIG-B Timing Capture and Synchronization with Phase Shift
Built-in Memory Backup
USB2 for direct download to external storage (HDD, Flash Memory Card, etc.)
Convenient functions for FOV setting: Low Light Mode, Fiducial Mark
Compact and Rugged Body
Optional Multi-Channel Wave Inserter (MCWI) allows for the capture of synchronized digital and / or analog data.
For all applications