Car Crash Video High Speed Slow Motion High Def
Additional Product Details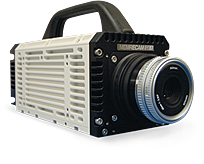 Camera Model: nac Memrecam GX-1
Description: nac Image Technology's first member of the GX family of high-speed digital cameras - the Memrecam GX-1! The GX-1 is a rugged, ultra light sensitive mega pixel camera developed for demanding testing environments. This Hi-G self-contained Camcorder provides crisp, clear images in brilliant color or crisp monochrome with over 1.3 million pixels! The GX-1 comes with selectable bit densities of 12 bit, 10 bit and 8 bit as a standard feature.
System Features:
Superior Light Sensitivity: >20,000 ISO monochrome, > 5,000 ISO color
High Resolution: 1280 X 1024 pixels
Adjustable Frame Rates from 50fps to 200,000fps in 1fps increments
1:1 aspect ratio at 3,000 fps.
Selectable Bit Density: 12 bits / 10 bits / 8 bits (extends recording) STANDARD
Variable Region of Interest with Continuously adjustable resolution in 16 x 4 pixel increments
Gigabit Ethernet Laptop Friendly Interface
Continuous Live Video Output (NTSC / PAL) during setup and recording
Auto Exposure Control
Dynamic Range Expansion Shutter (pixel level shuttering)
Versatile Recording: Burst-Trigger, Multi-Trigger and Event-Trigger Modes
System Features - continued:
Memory Segment with automatic segment change capability
External Sync Recording
IRIG-B Timing Capture and Synchronization with Phase Shift
Built-in Memory Backup
USB2 for direct download to external storage (HDD, Flash Memory Card, etc.)
Convenient functions for FOV setting: Low Light Mode, Fiducial Mark
Compact and Ruggedized Body (able to withstand >100G)
Applications for the Memrecam GX-1: Automotive Crash, Ballistics, Combustion, Materials Research, Machine Design, Microscopy, PIV, Flow Visualization, Spray Analysis and many, many more...